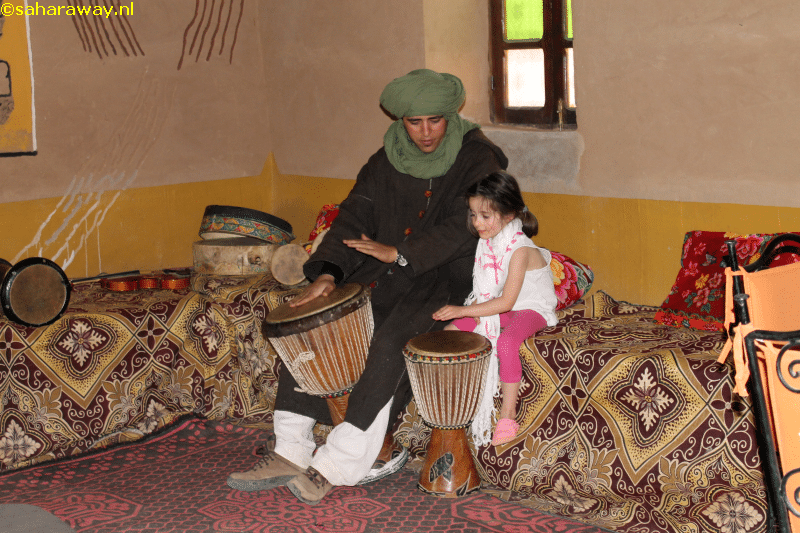 Morocco is a child-friendly country, children are welcomed with open arms, the people love children. traveling with children through Morocco can be very good, especially when you book a tour at a specialized agency. The programs are specially adapted for travel with children and there is a good balance between travel and rest, there is change with travel and rest days. Plenty of time is scheduled and because you travel with private transport, it is easy to adjust the tempo during the tour. The intiniraries are interesting and filled with excursions that are fun for the whole family. On the way there is plenty to see and experience, donkeys, dromedaries, kasbahs, Berber villages and markets.
The children get to know a totally different culture in  nice way. The population is friendly with ancient traditions.
Marrakech, with its famous Djemaa el Fnaa square is an experience itself. There is music and dance, there are snake whistlers, food stalls, and horses. The Medina and the souk will look special for children of all ages and they won't have eyes enough to see it all. Here is really everything to buy and see.
Accomodations
You will be sleeping in special places and the hotels or riads chosen by us have room for extra beds or have familyrooms. The accomodations during the tours usually have a swimmingpool and are all special. A real Riad, a Kasbah castle. a beautiful Auberge overlooking the wonderful sand dunes of the desert and ……an overnight stay in a real Nomad tent somewhere in the desert. A place where you go to on the back of a dromedary. Because traveling with private transport, taking luggage is not a problem, everything is loaded and unloaded by the driver, ensuring that it is taken to the room.
Food and drinks
You can take your children out to eat.  However, often there are no special children's menus, but for the most children, the local cuisine offers plenty of options to eat 'with the pot'. A lot of food is made with child-friendly vegetables like carrots and cauliflower and there are Tajines (Morrocan stews) with meatballs in tomato sauce or with chicken. In addition you can ask for an omelet of fries everywhere. The food in Morocco is generally good and affordable.
Climate and travel with children
The spring and autumn is an excellent time to visit Morocco. It is not too hot, but nice. Even in summer holidays you still can go to Morocco. Due to our tailor made travel, our tours are adjusted to the season, in the summer more time in the mountains and at the seaside, where the temperature is pleasant, and less time in other parts of Morocco such as the desert or Marrakech.
.