Ait Ben Haddou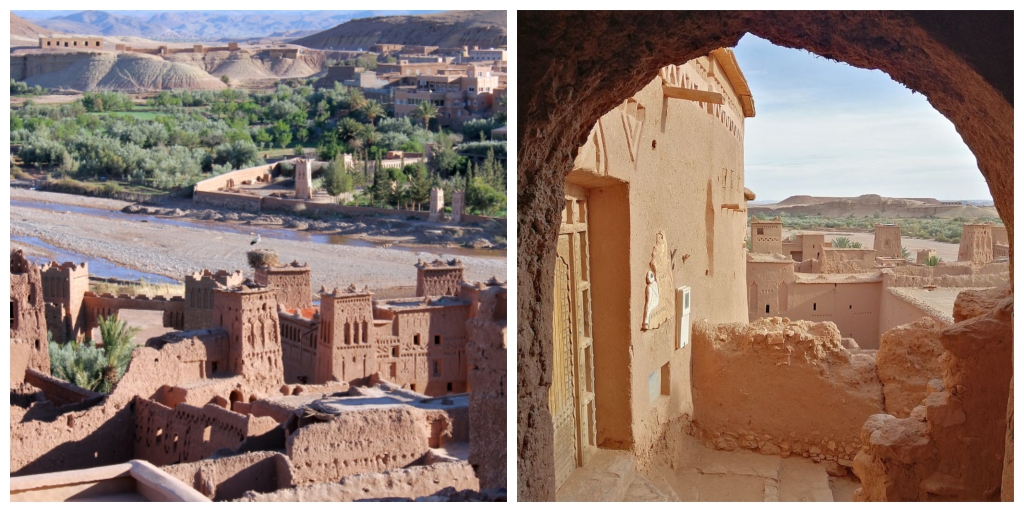 Kasbah Ait Ben Hadoou is an old picturesque fortress town.
Our excursions to the kasbah Ait Ben Haddou takes us through the High Atlas mountains via an impressive mountain road. We wind through scenic valleys and past Berbe Villages. Along the way we see many small stalls with semi-preciuos stones and fossils. Finally we drive over the Tizi n'Tichka, the highest mountain pass in the Atlas Mountains, 2260m. The peaks of the impesssive mountains are covered with snow from November to April. As we drive further south, another semi-desert landscape slowly emerges.
Along the river, on the way to Oarzazate, the kasbahs and small mud and straw houses contrast sharply with the emerald green field around.
Visiting Ouarzazate, the garrison town founden by the French, on the edge of the Sahara, is worthwhile. Here we find the former residence of the Pascha El Glaoui and the kasbah of Ait Taourirt. Kasbah Taourirt is one of the most interesting kasbahs in Morocco.
In addition, several film studios are located in Ouarzazate. Some of the most famous movies were shot here, including 'The Gladiator', 'Lawrence of Arabia' and more recently 'Game of Thrones'. Near Ouarzazate is the beautiful kasbah of Ait Ben Haddou, an old pictureesque fortress village. This village is on the Unesco World Heritage list and is considered one of the most beautiful in Morocco. Ait Ben Haddou is still in fair condition and therefor still houses redidents.