Chefchaouen, the blue city among the chaotic Morocco is wellknown as the blue paradise.
All buildings and houses are painted in a traditional blue colour. The light coming from the mountains gives the city a magical and unbelievably beautiful appearance. The traditional blue dyeing of the houses was long ago begun by the Jewish inhabitants of the city.
This city is far from the hustle and bustle of big cities like Fez and Marrakech. In Chefchaouen time seems to be stopped and the pace of life certainly has nothing to do with Western life. It breathes a perfect order of peace. For centuries this fortified city was completely impenetrable and forbidden for Christians. Currently, this city is accessible to all but retained its character, unlike other cities. The little maze streets all look out onto Hamman Square, where the great Mosque of the city stands. A walk through this blue paradise is the best way to understand the true meaning of the city. The famous Medina is a true sight, with east of the Medina, the waterfall where the women meet to do the laundry. .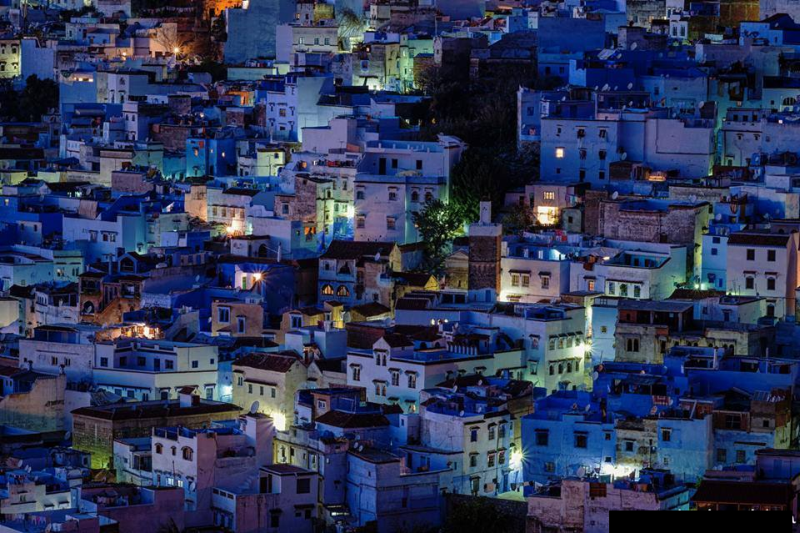 From the city you can take a small trip to visit the ancient Mosque built by Al Andalus's exiles. From there you have a beautiful view of the city.
Monday is the only day on which peace in the city is disturbed due to the weekly market. The market offers a range of local products and special items. Of course, once the market has ended, the rest and peace returns in the city.
Come and enjoy one of the most beautiful cities in Morocco, we would like to make a trip for you with a visit to this lovely little city.